Berenice Abbott: A View of the 20th Century
A Film by Kay Weaver and Martha Wheelock (1993)
---
WATCH ON YOUTUBE  |  AVAILABLE ANYTIME FREE
---
PURCHASE  DVD |  HOME USE  |  57 MINUTES
PURCHASE  DVD |  INSTITUTION  |  57 MINUTES
---
Critics place Berenice Abbott (1898 – 1991) at the head of her class; she was one of the greatest American photographers of the 20th Century. From her portraits of the avant-garde taken in Paris during the 1920's, to her documentation of New York in the 1930's, to her science photography of the '50s, and her studies of small-town America, Abbott's genius is in the incredible range of her work. Filmed during her 91st and 92nd years, the open-hearted Abbott takes us on a guided tour of her century.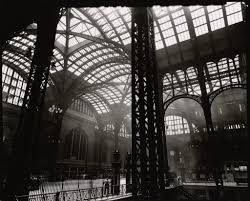 The tour teaches history, perseverance, courage, and single-minded dedication to one's chosen field.
"The range of her work is unparalleled in the History of American Photography: portrait, epic documentation of a city, and the science photographs – all executed with a clear, straightforward, honest vision by a woman who was clearly ahead of her time.
Abbott's first-person narrative is infused with over 200 of her pristine, classic black and white photographs, and commentary by leading scholars and critics. A brilliant film about a brilliant American Artist! 
Michael Healy, KCET-PBS
Blue Ribbon American Film Festival 1993
Gold Apple, National Educational Film Festival, 1993
Chicago Film Festival, 1992