Donate to Wild West Women Projects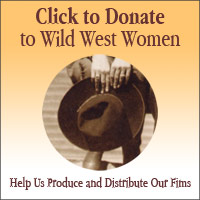 We are Wild West Women. We have been sharing Women's History and women role models since 1994 through both film and education. We outreach to diverse communities; we donate films and make presentations to schools, libraries, organizations, military groups, prisons, museums, and to any interested group or individual, with or without funds.
We hope that you will agree with us that spreading Women's History and their stories greatly increases our humanity and our democracy, fosters equality and inspires us all, each and collectively, to reach our full potential.
We thank you for your contribution and for joining us in shining a light into women's lives and history.
Wild West Women Serves as a Fiscal Conduit
Wild West Women provides services as a Fiscal Conduit for Artists and  Filmmakers.  We are pleased to list them here for you to make tax-deductible donations. These donations go through the Wild West Women 501(c)3 and on to the artists you indicate on the donation form.
A New Film by Jennifer Abod
Nice Chinese Girls Don't – Kitty Tsui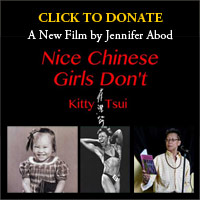 Through narration and poetry, Kitty Tsui, a Chinese American lesbian poet, writer, activist, artist and body builder, talks about coming of age in San Francisco in the 1970s, and her life now as an old lesbian.  The World Premiere was May 26th, 2018 at Cinema Systers.
This is the first documentary about a Chinese American Lesbian. Kitty Tsui tells of her arrival as an immigrant to San Francisco and, amidst the anti-Vietnam war protests, finding her way to San Francisco State. She became one of the founding members of Unbound Feet, the first Asian American performance group now recognized as the catalyst that sparked the Asian Pacific feminist and lesbian movements. An award winning author, she has penned three books and been included in over eighty anthologies worldwide. She has a forthcoming book from Sinister Wisdom with new and old poems, and a reprint of Words of a Woman Who Breathes Fire, a Sapphic classic.
This short documentary was adapted for a wide audience after receiving a receiving high praise and a standing ovation at the recent Old Lesbians Organizing for Change Conference and at reunion of Unbound Feet, in San Francisco.