Donate to Wild West Women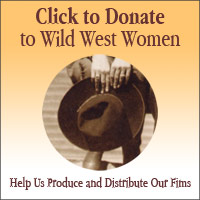 We are Wild West Women. We have been sharing Women's History and women role models since 1994 through both film and education. We outreach to diverse communities; we donate films and make presentations to schools, libraries, organizations, military groups, prisons, museums, and to any interested group or individual, with or without funds.
We hope that you will agree with us that spreading Women's History and their stories greatly increases our humanity and our democracy, fosters equality and inspires us all, each and collectively, to reach our full potential.
We thank you for your contribution and for joining us in shining a light into women's lives and history.
Check out our #NonprofitProfile  to see the great work we do for our community. We want to make sure you have the progress updates you need to confidently support our work with trust and confidence.
Wild West Women Serves as a Fiscal Conduit
Wild West Women, Inc. can supportively serve as a Fiscal Conduit for your project.  Donations to your project through Wild West Women, a 501c3, non-profit organization, give your donor a tax-deductible contribution.  We charge a low fee to handle your funds, and can be helpful of your needs. Write [email protected] and tell us about the project you want to finance. We look forward to working with you. We can set up your own donor link.
Some of our clients:
Long Beach Suffrage 100
 Into Light Film