Wild West Women is the proud producer of Tea with Alice and Me, a full length one woman performance that takes the audience to women's tearooms ~ Seneca, Selfridges, The National Women's Party, Women's Bookstores. Of course it is really about a cup of revolution served up in nonviolent direct action. From 1775 through today, Zoe takes you on her militant, revolutionary, feminist call to action. Hundreds of pictures and personal stories transport you to each time and place she describes.
Tea with Alice and Me
www.missalicepaul.com/teawithaliceandme.html
Tea with Alice and Me is a one woman stage production which tells the story of the intersection lives of Miss Alice Paul woven by lifelong dedication to the ERA.  Highlighting the thread of tea, from Seneca to Lafayette Square Park, this engaging experience is unforgettable.   Tea with Alice and Me is a call to action.  Zoe has sifted through what works and how change occurs.  This show is the long view of women's culture as politic.  It is never finished.  It is dynamic.  Zoe is constantly expanding it to include yesterday, today and tomorrow.
At the center of Zoe's heart is the first person to organize a march down Pennsylvania Ave, Miss Alice Paul.  Knowing this young Quaker woman who was arrested, served time and never rested in her 92 years, will invite you to celebrate Applied History, Applied Activism and honor the Mother of American Political Activism.  When you put on a hat and march, you will know how that happened; Alice Paul.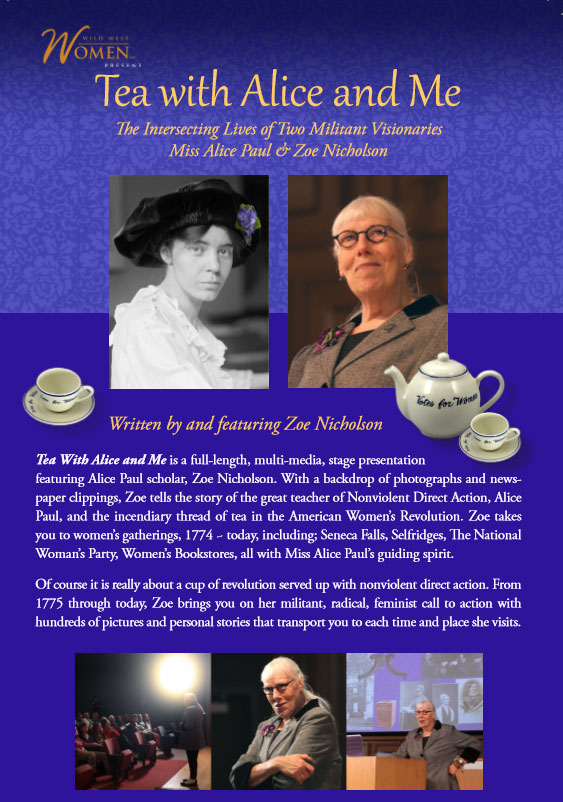 Productions of Alice Paul, the ERA and Zoe
are made possible by Wild West Women and the support of our supporters:
Executive Producer
Martha Wheelock
Producers:
Diane Bell-Rettger
Virginia Carter
Judith Osmer
Sylvia Patton
Joan Smiles
Associate Producers:
Margie Beebe
Margaret Bennett
Diane Gabe
Dolores Maggiore
Betsy Moore
Joannie Parker
Mary Lee Sargent
Annette Stern
Sponsors:
Susan Soto Campos
Penelope Clute
Nancy Cohen
Patti Henderson
Kathleen Kelly
Mary McGowan
Marlene Springer
Carmen Rita Tolivar
Anne and John Winskie