As the 19th Amendment turns 100, three exhibitions in Washington explore the contentious — and unfinished — struggle for voting rights.
In the summer of 1919, shortly after Congress passed the 19th Amendment, the Smithsonian acquired a few relics from the nearly century-long struggle for women's suffrage.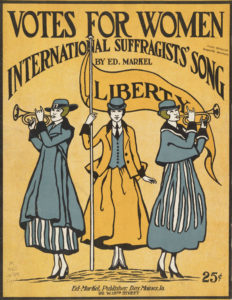 Susan B. Anthony's red silk shawl and the table on which Elizabeth Cady Stanton had drafted the Declaration of Sentiments in 1848 were among the donated items. A year later, after the amendment was ratified by the states and became part of the Constitution, theywere put on view along with some documents, teacups, brooches and other objects in a modest display bearing the offhand title "An Important Epoch in American History."
Today, there's a bit more excitement. The yearlong centennial of the 19th Amendment is being commemorated with exhibitions, parades, conferences and new historical markers across the country, many timed to various states' ratifications of the amendment. And in Washington, three major exhibitions are now open at the National Portrait Gallery, the Library of Congress and the National Archives.
Together, these shows — all curated by women — make up one of the richest explorations of women's history yet assembled in the capital, or anywhere else. But they also offer a lesson in the messiness, complexities and compromises involved in any movement for social change — and the fraught politics of historical memory itself.
Exhibits in Washington, DC