Suffragist, Activist, ALICE PAUL'S life and work presented in solo performance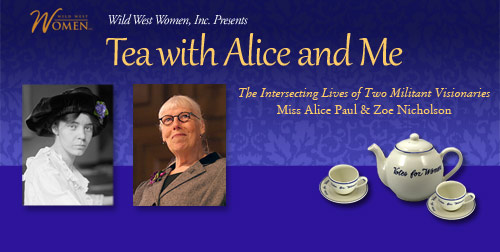 With Zoe Nicholson, writer, scholar, for one day only, January 7, 2018
Alice Paul inspired "women not to give up, making them share her conviction that the political equality of women "is worth sacrificing everything for, leisure, money, reputation, and even our lives" (Jeremy McCarter,  Young Radicals)
TEA WITH ALICE AND ME premieres on Sunday, January 7, 2018, 2 pm in the West Hollywood City Council Chambers, 625 N. San Vicente, West Hollywood, CA 90069. Begin the New Year with the experiences of one who was un-daunted by challenges and defeats–to winning Women suffrage, 1920, and beyond.
Suffragist ALICE PAUL was the first to bring non-violent, direct action to America, 10 years before Gandhi and MLK; leader of the activist branch of women's suffrage movement, a picket who was forced fed, to win the vote in 1920. Author of the Era, and worker for Women's Rights until her death at age 92! Her tactics, philosophy and experiences give us tools today for our own activism, righteous indignation, and passion to build a torch, light it, and carry it for Equality.
This multi-media one-woman stage presentation features Alice Paul scholar, Zoe Nicholson. With a backdrop of hundreds of photographs and newspaper clippings, Zoe tells the story of the great teacher of Nonviolent Direct Action and the incendiary thread of tea in the American Women's Revolution; Seneca Falls: 1848 to Washington DC 2018. Zoe will dramatically and accessibly reveal the Alice Paul few know about, and share Paul's tools for activism and how Zoe herself was ignited into activism.
*Co-Sponsored by the City of West Hollywood,
*The performance includes a Q and A and a tea reception.
*Parking is free with validation at the site.
*Tickets: Eventbrite